Cars are always a costly affair so getting the best one is what an individual deserves who wants to buy a car. Hasty decisions while buying a car can end up to be a huge mistake if minute details are not taken in account. So the
comparison of cars
is what one should always perform before settling for one finally. This article provides a comparison between the famous Volkswagen Polo and the Ford Figo and gives a sound idea about the features both possess and which one is the best option for purchase.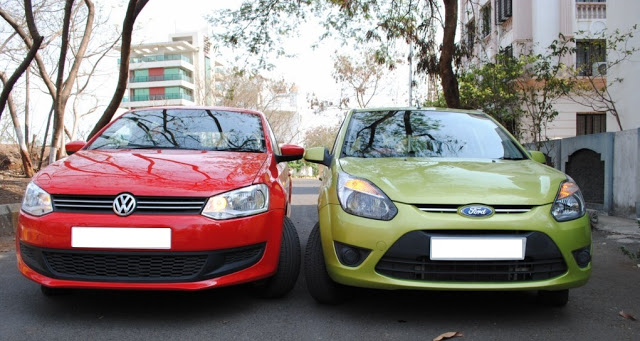 Hatchback cars are the best and most popular ones in India. The sale of hatchbacks is also pretty high in comparison to the other variants. Both
Volkswagen Polo and Ford figo
are famous hatchbacks which can be easily seen on the roads of Indian cities. These two are a pair of charming hatchbacks which are loaded with numerous features and styles. Both the hatchbacks come along with petrol and diesel variants which are always in demand by the buyers.
Both the cars possess a number of two airbags and along with engine immobilizers. The Volkswagen polo has got rear parking sensors whereas the Ford Figo does not contain so. Both are installed with child safety locks, door ajar warning, central locking and ABS features. EBD or Electronic Break force Distribution is present in the Figo and not in the Polo.
Among the exterior features both have halogen headlights, power steering and instrument console. Multifunction display is present in both however the adjustable steering column has both rake and reach in Polo and only rake in Ford. Both do not possess start stop button but the polo comes with a digital clock whereas the Ford does not have one.
The navigation system is not present in both the models; the Polo has fully automatic climate control system while the Ford has a manual one. Both do not have automatic headlights. The fuel lid opener for Polo is a push to open one while hat of Ford is an internal one. All the rows of the Polo have adjustable headrests while the Ford has only front ones. Both have four cylinder engines with a powerful body. Both also come along with petrol and diesel variants. All these features make up the entire comparison of both the cars. With a difference of minute features, both are very handsome and charming cars which you can buy.
These features do not consolidate the fact that the final choice is always yours while buying the car. These features and the comparison is just a nudge to jolt up your senses and help you to get settled on your decision of buying the best car among the two. Performance wise both are nice machines with individuality. All you need to do is give both an equal shot and then chose which one suits your personality the best. You can easily do so by getting a nice test drive of both the models and settling down finally with your choice.